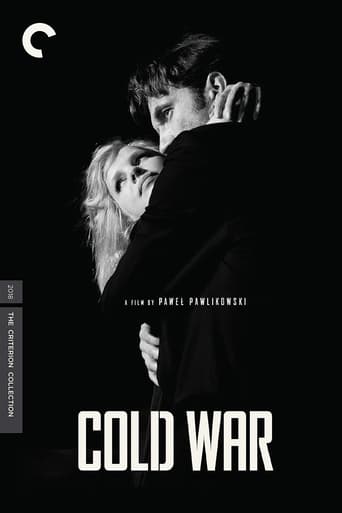 Cold War
Overview
A man and a woman meet in the ruins of post-war Poland. With vastly different backgrounds and temperaments, they are fatally mismatched and yet drawn to each other.
Actors
Starring:
Joanna Kulig
,
Tomasz Kot
,
Borys Szyc
,
Agata Kulesza
,
Cédric Kahn
,
Jeanne Balibar
,
Adam Woronowicz
,
Adam Ferency
,
Adam Szyszkowski
,
Dražen Šivak
,
Slavko Sobin
,
Aloïse Sauvage
My opinion : From the get go we plunge ourselves inside this lukewarm monochromatic romance that marks the roughly decade long flawed relationship between two partners from two different societal classes set at the height of the cold war in Poland.
The film is compelling and follows two partners through the years in their "can't live with can't live without" relationship, and through these many years follow the realization that they are in a spiraling of tragedy and dilemmas surrounding love.
This is easily the most aesthetically beautiful film of the year, shot after shot not only revivifies the atmospheric ambience but it also enlightens on the films core sentiment; an incomprehensible state of melancholy.
Cold War's characterization is interesting but not perfect, the romance starts quick, perhaps unrealistically quick, and the duos feelings remain complex and difficult to grasp throughout the duration of the film. But it is only up until the final 5 minutes of the film that we understanding the truth, that we understand these feelings and that we know that the film deserves another look, which concludes this great piece of cinema as not only heartbroken, but real.
88/100